Posted 14:07, 24 October 2012
Peckham's own Bee Lady, Penny Metal with be playing Polka upstairs at the Hoedown with the Cut A Shine Crew!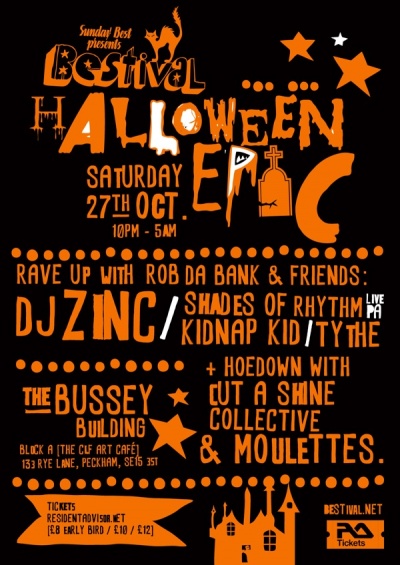 SUNDAY BEST PRESENTS
BESTIVAL HALLOWEEN EPIC:
RAVE VS. HOEDOWN
AT THE BUSSEY BUILDING / PECKHAM
SATURDAY 27TH OCT

TICKETS ON SALE NOW £8 (EARLY BIRD) / £10 adv / £12 door

www.ticketline.co.uk/bestival-halloween-epic

www.residentadvisor.net/event.aspx?411419
www.facebook.com/events/357344894353592/
SUNDAY BEST are heading south of the river once again to host a BESTIVAL HALLOWEEN EPIC at their favourite warehouse venue, the BUSSEY BUILDING in Peckham.
For his third ever Bussey party, Bestival's ROB DA BANK is keeping things as eclectic as ever, whilst always guaranteeing a night of ecstatic dancing, in a smouldering line-up to warm up even the creepiest of nights... It's a Rave vs Hoedown spectacular.
ROOM 1: RAVE! First to join da Bank for a stint on the decks are Sunday Best / Bestival resident DJs SOMBRERO SOUND SYSTEM, playing unabashed party heaters to get you hot under the collar. Next up is hotly tipped newcomer KIDNAP KID whose heartwarming high-tech sounds are going to make your hairs stand on end, just in time for the Godfathers of Bass music, DJ ZINC. A set from the man behind classics like 'Super Sharp Shooter', '138 Trek' of course 2010's massive collaboration with Ms Dynamite, 'Wile Out', is the perfect antidote for the oncoming winter sniffles, as he turns up the heat on the dancefloor and watches Peckham's undead lose the plot. Then bonafide stalwarts of the 80s/90s Rave scene, SHADES OF RHYTHM, pick up the mantle and perform a live PA. Let's hope they bring some of their finest underground & chart-topping moments of the past along for the ride, à la 'Frequency', 'Sweet Sensation' and 'Sound of Eden'!
ROOM 2: HOEDOWN! Upstairs it's a Halloween with a twist; a barnstorming marathon hosted by Bestival's favourite hoedown collective CUT A SHINE. Bringing their distinctive brand of infectious ditties and dancefloor mayhem to the underworld, with live acts playing everything from Bluegrass to Punkabilly and beyond, and maybe even throwing some of their own 'Hoe-step' and 'BarnCore' in the mix too, there's no way you won't find yourself caught up in the Cut a Shine melee at one point or another. Next up, MOULETTES are coming to town, bringing their virtuosic blend of fantasy, Fairytale and Folk to the stage, with a stirring live show. Then, in the wee small hours when things start getting really weird, a DJ set from new Sunday Best signing TYTHE will brighten up the corners…
With a top notch soundsystem, in what is the perfect warehouse for a Halloween wig-out, look forward to freaky fun and games all night long!