Posted 15:49, 26 July 2012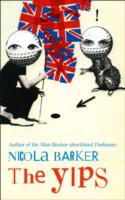 Yay for The Yips and the clever, inventive, and hugely talented Nicola Barker. On the Booker Longlist. Some people find Barker's writing difficult, complicated even, and propose this as criticism. I say they're just not clever enough to appreciate her.
As much as I think Hilary Mantel's Bring up the Bodies, also on the Longlist, is astoundingly brilliant she can't win two years in a row. Can she? That would just be rude.
Ali Smith said - "...one of the most original writers at work in the novel in English right now, Nicola Barker." (speaking at the Edinburgh World Writers' Conference)
HB. £18.99