Posted 11:54, 18 March 2011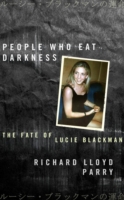 A terrifying reminder that fact can be much stranger and more frightening than fiction. A reminder that there are people who obey nobody's rules but their own. A reminder that it is near impossible for one human being to really know another. A reminder that alongside acceptable human behaviour and thought people are also filled with rage and lust and hate.
This is the story of Lucie Blackman who disappeared one afternoon after a "date" with a customer from the hostess bar where she worked in Tokyo. It is also the story of Richard Lloyd Parry's obsessive need to excavate the truth, not just about Lucie's death but about her short life. He thoroughly investigates the lives of her family, friends, boyfriends, colleagues, the man accused of her murder, and his family and aquaintances, and in so doing exposes the livid nature of human existence and the darkness that surrounds us all.
Hb. £17.99