Posted 13:24, 1 February 2015
Curtain call by Anthony Quinn Hb. 12.99, published by Jonathan Cape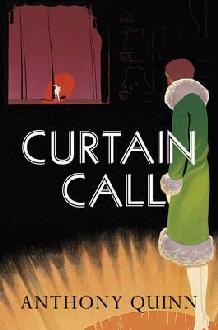 Here's something to lift the February gloom. A between-the-wars lighthearted thespian romp with a familiar cast of characters dashing about quaffing Gin Fizz.
The acid-tongued Theatre Critic and his faithful long-suffering "Jeeves", the innocent Country Girl fallen upon hard times in the city, the Slimy Pimp, the Chin-Up middling actress and the wildly talented yet modest (and married) Painter. The raciness of the 30's is offset by homosexual witch-hunts and the looming menace of Fascism. With a serial killer to boot, what's not to like?
Hugely enjoyable. Akin to putting your feet up in front of the TV after a good Sunday lunch and watching "All About Eve" or "Whatever Happened to Baby Jane".