Posted 00:00, 2 June 2016
I'm Jack by Mark Blacklock, Granta, pb. £8.99 FICTION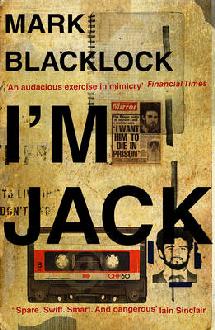 "Mark Blacklock's first novel is an audacious exercise in mimicry. Yet it is an utterly appropriate one, too: through a series of letters, witness statements and assorted official documents, Blacklock assumes the voice of one of Britain's most notorious hoaxers, John Humble, aka "Wearside Jack", the man who assumed the voice of the Yorkshire Ripper." - Austin Collings in the Financial Times
A ficitonalised version of real events giving voice to the man who called himself "Jack". A gripping page turner made all the more so because it is written by a long-ago habitué of Review! Blacklock, just like John Humble aka "Jack" hails from Sunderland. We are hoping to twist his arm into joining us for our Literary Festival later in 2016.
"An intriguing debut...There is an air of grubby menace thoughout" New Statesman
"A deftly executed ventriloquist act, it's anchored in the true story of notorius hoaxer John Humble... The book itself is just as slippery" Observer
"Spare. Swift. Smart. And dangerous." Iain Sinclair
A chilling debut, told in the voice of the hoaxer who led the Yorkshire police on a wild goose chase. Read the full FT review.