Posted 12:25, 17 September 2013
Tuesday 8th October 7-9pm at Review
Famous award-winning Peckam food blogger Helen Graves will be launching her new book, 101 Sandwiches - A collection of the finest sandwich recipes from around the world. She really loves sandwiches, and she should know - she also writes The London Review of Sandwiches.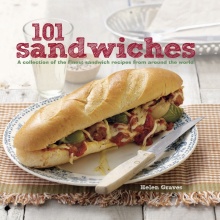 From the humble tomato sandwich to an enormous meatball sub, the sandwich is the most versatile type of food imaginable.
Whether you want a simple snack to stick in your lunchbox or something more substantial to see away a Sunday morning hangover, 101 Sandwiches has delicious recipes from around the world involving the key ingredient, bread, to make panini (panini is already plural), burgers, open sandwiches, pitas, and more. So if you want to learn how to make a delicious caramel pork bánh mì mi baguette from Vietnam, a shrimp po' boy from Louisiana, a Japanese fried noodle sandwich, or a French croque monsieur, buy this book now. Also included are recreations of historical sandwiches such as the Queen Alexandra, variations to pimp up your average BLT, and plenty of sandwich-based facts that are guaranteed to improve your life.
Helen Graves is a London-dwelling sandwich fanatic who has made it her personal mission to find the best sandwiches known to woman or man (sorry couldn't resist). The whole time she has done nothing but whinge about the lack of decent recipe books devoted to sandwiches whilst simultaneously doing nothing about it. All that is about to change.
Helen will be sharing some of her favorite sandwiches with you, and there'll be plenty of wine to go along with them.
This event is free, but please let us know if you're coming by clicking here and reserving a space.www.eventbrite.com/org/951704623