Posted 12:53, 22 June 2011
Wednesday 22nd June 7.30 - 9pm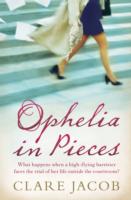 Local author Clare Jacob will read from and sign copies of her debut novel Ophelia in Pieces. Clare read English at Oxford and was later called to the Bar (the legal kind).
Ophelia is a just-turned-39-years-old criminal barrister whose husband has done the dirty on her with his secretary. Ophelia thinks she is right to kick him out the minute he admits to his skulduggery, leaving her right in the shtuck with a 9-year old son and an unreliable income stream. Our heroine begins to have second thoughts about her hasty actions when she quivers at the knees amongst the heady scents in the Orchid House of client Mr-very-handsome-extremely-naughty-and-ever-so-slightly-sinister!
Come along and help Clare celebrate with a glass of vino and a few crisps.
Published by Short Books, paperback £12.99
See more info and links to some reviews here... http://www.clarejacob.com/