Posted 11:20, 5 May 2016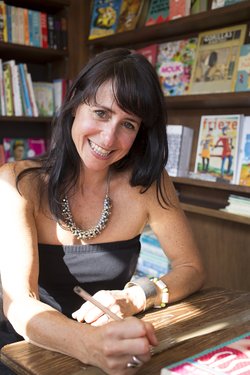 Jess is back and we are delighted! Acclaimed local childrens author and DJ extraordinaire Jess Bright is back at Review. Join us on 13th May @ 4pm to celebrate the launch of her new book; Back in the Day. We're expecting a glorious 80's fest, party accordingly.
Can time travel fix a family and a friendship?
So, one minute my ex-best friend Izzy and I are rummagin in the PE cupboard, looking at hilarious prom stuff from the 1980's. The next minute, we're there. Actually there, in 1985. And that's not all - our mums are there too! Check out the hair! It's weird enough for Izzy, who's not really getting on with her mum at the moment. Not that I care, we're not friends anymore anyway. But the thing is, my mum died in a car crash when I was four. I've always longed to get to know her, and now's my chance! Izzy says we mustn'y change anything in the past , as it might mean our future selves don't even get born. But how can I not ward my mum about here fate? If there's a chance that I can save her, surely I've got to take it. Wouldn't you...?
If you're planning to attend then please do drop us an email to let us know