Posted 00:00, 17 February 2011
Thursday 17th February 7.30pm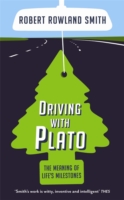 Acclaimed popular philosopher, Robert Rowland Smith, will read from and talk about his new book Driving With Plato: The Meaning of Life's Milestones. Be enlightened and entertained as you hear from Aristotle on starting school, Heidegger about moving house, and Proust on becoming wise in your old age.
Robert was for seven years a Prize Fellow at All Souls College, Oxford. Alongside roles advising blue-chip companies and government departments, he now has a column on moral dilemmas in the Sunday Times Magazine, and contributes regularly to BBC radio and television.
We had a grand evening here to lauch his last book, Breakfast with Socrates, which has now been translated into seventeen languages. He lives nearby, in Peckham.
Published by Profile Books Driving With Plato is £12.99 in hardback.