Posted 00:00, 20 December 2011
Tuesday 20th December 6pm-8pm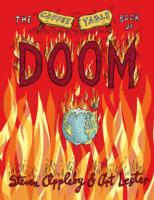 Watch out there's doom about. In fact, according to Steven Appleby and Art Lester, there are 27 variations of it coming our way! Personal doom, gender erosion, asteroid impact, pandemics, super storms, sexual ruin - and much more besides. So to help alleviate this impending doom we have arranged a jolly seasonal booksigning event with Steven and Art. Come along and enjoy a mince pie with a snifter of sherry.
Steven Appleby's LOOMUS cartoon appears in The Guardian each Saturday.
The Coffee Table Book of Doom is published by Square Peg and is in Hardback at £14.99.