Posted 12:42, 2 June 2018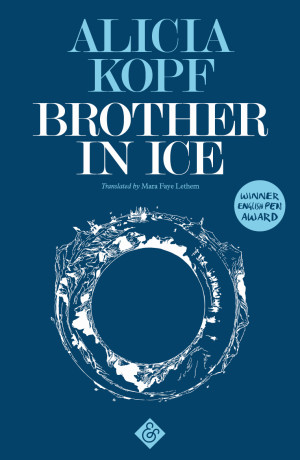 Join us at Review on 2nd of June where we will hear a reading from Alicia Kopf and discuss her hybrid novel Brother In Ice. Part research notes, part fictionalised diary, and part travelogue, Brother In Ice uses the stories of polar exploration to make sense of the protagonist's own concerns as she comes of age as an artist, a daughter, and a sister to an autistic brother. Conceptual and emotionally compelling, it advances fearlessly into the frozen emotional lacunae of difficult family relationships. Deserved winner of multiple awards upon its Catalan and Spanish publication, Brother in Ice is a richly rewarding journey into the unknown.
'Alicia Kopf's genre-defying book rises as clear and cold as an Arctic sea, floating with ideas that, like icebergs, are buoyed up by meaning and memory below their surface.' - Philip Hoare, author of Leviathan
Alicia Kopf, born Girona, 1982, is an and writer based in Barcelona. Brother in Ice is the culmination of an artistic cycle of texts and exhibitions entitled Àrticantàrtic, which won numerous visual art and literary prizes.
'She thought that it was precisely when things get uncomfortable or can't be shown that something interesting comes to light. That is the point of no return, the point that must be reached, the point you reach after crossing the border of what has already been said, what has already been seen. It's cold out there.'
As always tickets cost £5 and include a glass of wine and £4 off purchases made on the night.