Posted 13:24, 15 August 2012
7-9pm, 23rd August, come and have a drink with Steven and pick up a signed copy.
From the award-winning author of THINGS WE DIDN'T SEE COMING, a novel about superheroes and their secrets.'A wonderful novel: imaginative, intelligent, empathetic ...like a cross between The Corrections and The Slap' Sydney Morning Herald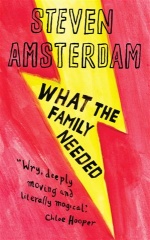 'Okay, tell me which do you want: to be able to fly or to be invisible?'
So seven-year-old Alek asks his cousin Giordana, though neither can know where the answer will lead.
Family life is tough, and the lives in What the Family Needed are as full of trials, joys, loss and tribulation as any others. But at the moment of greatest need, each of these lives is touched by surprising strengths, by extraordinary gifts, by a strange sort of magic. From a sexually curious teenager to a septuagenarian widower to a middle-aged exile, we read about their secrets over thirty years.
At the centre of it all is Alek, the enabler and catalyst for the tale of a family finding itself, as they discover powers they never thought possible.
What the Family Needed is uplifting and mesmerising. Steven Amsterdam's second novel is as wholly original and inventive as his award-winning debut. It's a beautifully written tale about how family members jostle with each other, how they prop each other up, how little wars are won and lost, how much is left unsaid. It's about how much each person needs in order to change their life, and what the family needs in order to survive.
It's published by Harvill Secker, and is £12.99 in hardback
Steven Amsterdam was born in New York and has worked as a map editor, producer's assistant, and a pastry chef. He has lived in Melbourne, Australia since 2003, where he works as a writer and palliative care nurse. His debut novel, Things We Didn't See Coming, won The Age Book of the Year in Australia and was longlisted for the Guardian First Book Award. But never mind all that, look at his dog, Wylie.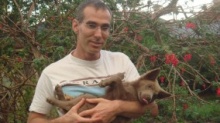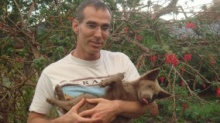 PRAISE FOR THINGS WE DIDN'T SEE COMING
'Gleefully apocalyptic novel...as ever with this kind of dystopian fiction, there is a satisfying tingle in imagining an Armageddon just round the corner. But Amsterdam also gives his book an emotional heart; it lies in the contrast between the narrator's very ordinary emotions - jealousy, fear, the desire to belong - and his extraordinary circumstances.' FT
'What makes the writing particularly satisfying is that Amsterdam never overelaborates. Amsterdam keeps his narrative moving. He is good on detail. What makes Things We Didn't See Coming such an impressive novel - and very impressive debut - is the playfulness of the writing contrasted to the grimness of the subject matter. In Amsterdam's hands the apocalypse sounds like it might be fun.' SUNDAY TIMES
'A novel that ditches traditional narrative drive in favour of nine separate episodes, each capable of standing alone as a short story...it might sound frustrating but somehow it works...he has got the emotional intelligence dead right.' TIMES
'Amsterdam sketches in the immediate details with a brilliantly vivid economy...Amsterdam's tone is refreshingly unapocalyptic, and his novel is more interesting for it...the book as a whole is a small marvel, overflowing with ideas. Scary, funny, shocking and touching by turns, it combines the readerly pleasures of constant reorientation with the sober charge of an urgent warning. Things We Didn't See Coming refracts our life-and-death fears through those moments of human contact where they are most keenly felt; some of those fears are eternal, some shockingly new.' GUARDIAN
'Impressive debut novel...Amsterdam writes with tremendous assurance and his narrative teems with ideas, repeatedly twisting in unexpected directions. His disturbing but beguiling novel introduces a writer with a striking, original voice' MAIL ON SUNDAY
'As impressively ingenious as a fairground house of mirrors ... dramatic, exciting and unpredictable... It sails through the Big Novel Test in that it stays in the mind long after it has been laid down. And there is a powerful magic in that' TLS