Posted 12:21, 14 March 2013
Thursday April 11th, 7pm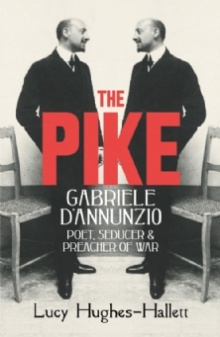 Lucy will be at Review, speaking about her new book. The Pike charts the controversial life of D'Annunzio, the debauched artist who became a national hero. His evolution from idealist Romantic to radical right-wing revolutionary is a political parable. Through his ideological journey, culminating in the failure of the Fiume endeavour, we witness the political turbulence of early 20th-century Europe and the emergence of fascism.
Praise for 'The Pike':
'Hugely enjoyable … Hughes-Hallett has a great talent for encapsulating an era or an attitude …The fact that almost 700 pages flew by bears testimony to how pleasurable and readable those pages were' Sunday Times
'A splendid subject for a biography… Hughes-Hallet dances her way through this extraordinary life in a style that is playful, punchy and generally pleasing… In death, as in life, the amazing story of D'Annunzio is painted in primary colours, but with the darkest shadows' Observer'
'The story is told by Hughes-Hallett with verve, a fine storyteller's touch and an acute eye for period paraphernalia and sensibility… The whole is enthralling curiosity' Literary Review

Lucy Hughes-Hallett is a cultural historian and critic. She is the author of Cleopatra, Queen, Lover, Legend and of Heroes: Saviours, Traitors and Supermen. She reviews regularly for the Sunday Times Books Section.
RSVP 020 7639 7400