Posted 00:00, 8 December 2008
Monday 15th December from 4pm
Viviane Schwarz will be juggling with her knitting whilst signing copies of her new book for children.
Viv likes to get to know her characters before drawing them so she makes then out of socks and other such stuff of she knits them - like this...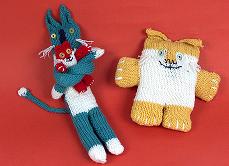 There Are Cats in This Book makes the purrfect Christmas gift for 0-5 year olds. Come along, Viv will show you how to make her cute cat characters and...there may be cat cakes!
Walker Books £9.99
http://www.vivianeschwarz.co.uk/