Posted 14:37, 3 July 2013
Thursday 4th July 7-9pm at Review
An evening of readings and Q&A to celebrate the launch of five exciting new books exploring the mysterious realms of fantasy, the uncanny and urban noir that make up what has come to be known as the literary slipstream.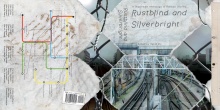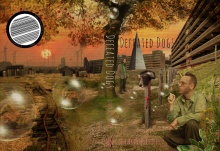 Rustblind and Silverbright is an anthology of brand new horror and fantasy stories inspired by the subject of trains, railways and uncanny journeys. Featuring writers such as Allen Ashley, Rosanne Rabinowitz, Steve Rasnic Tem, Douglas Thompson and Aliya Whiteley, this book takes the reader on a magical mystery tour of the psychological and science fictional borderlands other anthologies simply dare not reach. Edited by Eibonvale Press founder and railway enthusiast David Rix, Rustblind and Silverbright is the very latest addition to Eibonvale's already celebrated canon of weird fiction. This evening's entertainment will feature readings by several contributors to this landmark anthology.
The Defeated Dogs (Eibonvale Press) is the fifth collection of stories by Quentin Crisp, one of British horror fiction's most original voices. Blending elements of the absurd and the uncanny with the explicitly horrific, Quentin's stories are original, entertaining, and disturbing in equal measure. With key influences including European fairy tales, magical realism and Kafkaesque symbolism, they are also often rapturously beautiful. Quentin will be reading from the collection, and also answering questions about his inspirations and just what it is about horror fiction that keeps on giving.
Helen's Story (PS Publishing) is the new novella by London writer Rosanne Rabinowitz, exploring the strange hinterland of one of British weird fiction's most famous and celebrated works, Arthur Machen's unforgettable story 'The Great God Pan'. Helen Vaughan is given a bad press in the original story, depraved as a child by supernatural forces and bringing madness and self-destruction to those who encounter her. In this beautifully written and slyly clever work of weird fiction, Rabinowitz allows Helen to finally tell her side of the story, revealing that there was a lot going on behind the scenes that Machen never dared to reveal... Rosanne will be reading from her enchanting new novella – feel free to ask her questions about it afterwards.
Stardust (PS Publishing) is the new collection from Nina Allan, whose previous collection The Silver Wind was listed by the British Science Fiction Association journal Vector as one of its Top Ten Reads for 2011. Combining elements of science fiction and the dark fantastic, the six interlinked stories that make up Stardust are bound together by the mysterious figure of Ruby Castle, a horror movie actor who became notorious for murdering her married lover in a jealous rage. But who is Ruby Castle really, and what kind of influence does she exert over the real and fantasy lives of her devotees? Nina will be reading from the collection, and will be happy to delve deeper into its mysteries by answering your questions.
Jane (Chômu Press) is a novel by London writer P F Jeffery, exploring the unfamiliar yet oddly familiar world two or three thousand years hence. It is the first in a projected series of twelve novels, The Warriors of Love. Three women are to take turns in delineating the early years of the Empire, as well as the final years of the Surrey Democracy and the wicked kingdoms. Jane starts this process as a sixteen year old civil servant, contributing the first strands for what will become a complex web of interlinked stories. The author will be reading from this beguiling evocation of a memory-haunted future, combining erotic picaresque, breathless narrative in the best tradition of British adventure yarns, and poetic evocation of place and person. Peter will be availiable to sign books and answer questions.

RSVP 020 7639 7400